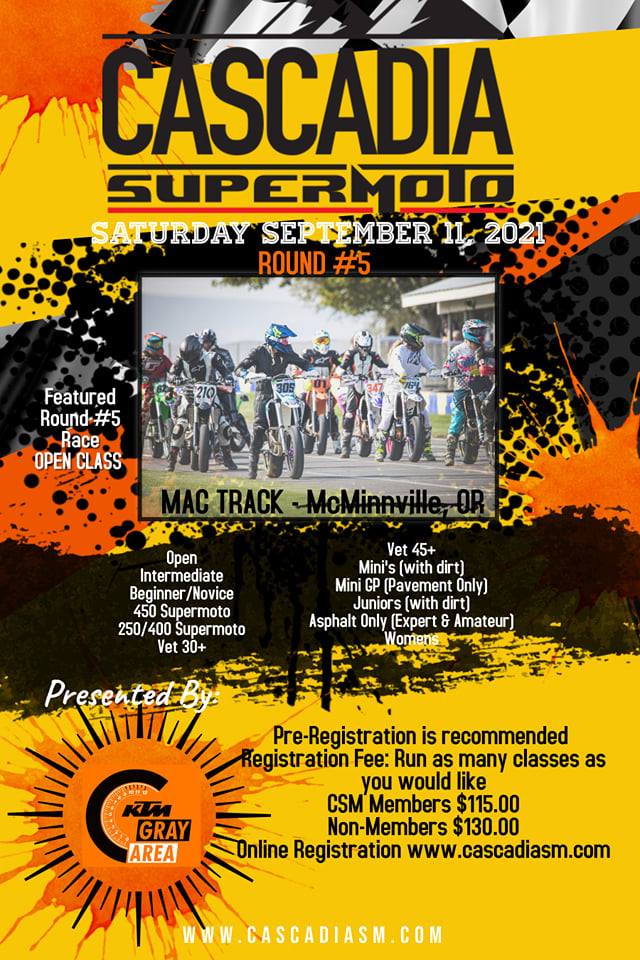 Below is our race schedule. Track details at bottom.
Races are hosted by CSM unless otherwise noted. Practice days are not hosted by CSM.
2021 Race Dates
3/27/2021 TCKC Open Practice
5/1/2021 Round 1 TCKC Bought to you by Lynnwood MotoPlex
5/22/2021 Round 2 Bremerton brought to you by KFG Motorsports
7/31/2021 Round 3 Bremerton Presented by Pro-Wheel
8/28/2021 Round 4 TCKC (Racing under the lights Night race) Presented by Lynnwood MotoPlex
9/11/2021 Round 5 Mac brought to you by Gray Area KTM
10/2/2021 Round 6 TCKC Cancelled
Awards – TBD
Practice Dates
Check back for updates, practice dates will be added as they make sense. Don't forget to check the track schedules if you'd like to go on your own – there is more practice time available!
3/27/2021 TCKC Open Practice
All of our race days will have approximately the same schedule. The race day order is one heat and one main, with the following class order:
Asphalt-Only Expert
Asphalt-Only Amateur (*may be combined with expert depending on turnout)
Minis (with dirt)
Vet 45
Intermediate
250/400 Supermoto
450 Supermoto
JR's (with dirt)
Veteran 30+
Novice (aka beginner)
Mini GP (Pavement only)
Open
Womens
---
Google map locations are provided below, just click on the track picture! For details, click the link above each track.
3234 Twin Bridges Rd
Richland, WA

7500 SW Old Clifton Rd
Port Orchard, WA