Cascadia Supermoto was created by local racers. We aim to provide a consistent racing experience, and to grow the sport in our region. Our efforts are focused in Washington state, as well as Northern Oregon.
Ron West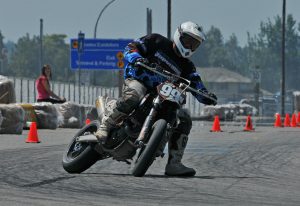 Ron is President of CSM. He formerly ran Supermoto USA NW, NW YSR and had been a slow, fast supermoto racer since 1999.You may hear him at the track cackling laughing or yelling at other racers on the track or enjoying his son racing in the 250 classes.   Ron can be reached at:
He also films with a garmin virb for most of the races.  Check it out at: https://www.youtube.com/ronwest99
---
Rick Engstrom
Rick has been a almost pro level supermoto racer for quite some time. He comes from a MX and Road Racer background.  He's new on the organizational side, but he's super enthusiastic, enjoys interacting with all the riders and finding new ways to keep people in the sport. He's a great sport with all the teasing we give him.   He's also a dad to 2 youngsters who have grown up in the supermoto community.